I am proud to introduce you to my hometown of Southey.  A short, scenic drive from the City of Regina, our residents enjoy the benefits of both city and small town life.  Ours is a community driven by passionate, business persons and volunteers.  Our families enjoy a wide range of recreational activities, renewed health & emergency services, as well as many popular annual events. This is the community that you can grow or retire in.  We have amenities and services suited for everyone, no matter your interests or faith.  Paved streets and sidewalks connect our greenspaces, parks and school.  There are new residential and commercial serviced lots available for purchase in our progressive and environmentally considerate community.  Neighbors become friends here in Southey. 
Come and see for yourself- give us the opportunity to welcome you to your new hometown!
Mayor Martin Lingelbach
Things going on in Southey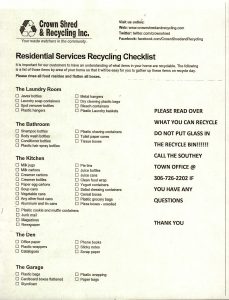 SOUTHEY RESIDENTS-PLEASE READ SO YOU KNOW WHAT IS AND IS NOT PERMITTED IN BLUE RECYCLE BINS
***
TOWN OF SOUTHEY WILL BE GOING TO BIWEEKLY GARBAGE PICKUP STARTING JANUARY 1 TO APRIL 30, 2018.
IN MAY 2018 WE WILL GO BACK TO WEEKLY PICK UP.  A MAILOUT WILL BE IN YOUR MAIL BOXES WITH THE FULL SCHEDULE THIS WEEK.
Recycle Days
Jan 2, 16, 30
Feb 13, 27
March 13, 27
April 3, 17
Garbage Days
Jan 3, 17, 31
Feb 14, 28
March 14, 28
April 4, 18
 ***
PUBLIC NOTICE
IN ACCORDANCE WITH BYLAW 12-2005
PUBLIC NOTICE IS HEREBY GIVENT HAT THE REGULAR SCHEDULED TOWN OF SOUTHEY COUNCIL MEETING ON JANUARY 23RD, 2018 HAS BEEN CHANGED TO JANUARY 30TH, 2018 AT 7PM.
Southey & District Lions Club Trip of the Month
Trip of the Month Tickets are now available.  Please contact your local lions to purchase a ticket and 50/50 tickets
Quick links to Southey information