The Southey Senior Citizens Club located on main street offers recreational pursuits and outings.  Southey has a very active seniors community.
Did you know that our senior centre is available to rent?  It has internet access, which is ideal for online meetings, web conferences, group education and webinars. With our state of the art surround sound system that has speakers throughout the ceiling, noise reduction, high absorption ceiling tiles and axillary connect for your phone or music player to connect to.  We also have a brand new 75″ TV with HD cable package incase you want to rent the centre for the next big game, or the capability to project directly through the TV, no need for data projector or screen.  We also have a blue ray player ideal for movie birthday parties!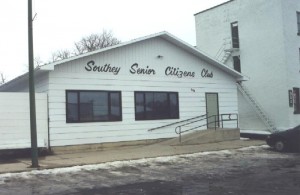 To book the club please contact Joe Butel @ 306-726-2168.
Facility without kitchen: $45.00
Facility with kitchen: $75.00
Facility, kitchen and use of AV equipment: $100.00
For a full calendar of events at the Senior Centre Click here
Past event photos click here