The Southey Senior Citizens Club located on main street offers recreational pursuits and outings.  Southey has a very active seniors community.
Our Senior Centre is available for rent and has the following updated amenities:
75″ TV with HD cable package
HDMI cable which allows you to use your laptop and present through the TV, no need for data projector
High quality sound system with Auxiliary jack
Blue ray player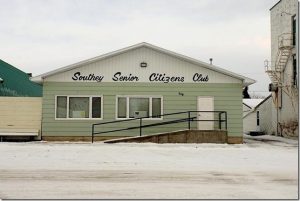 To book the club please contact Karen Hillier @ 306-726-7686 or Marlene Bishop (text acceptable) @ 306-726-8065, or email the seniors center southeyseniors@gmail.com.
Facility without kitchen: $45.00
Facility with kitchen: $75.00
Facility, kitchen and use of AV equipment: $100.00
For a full calendar of events at the Senior Centre Click here
Past event photos click here